Building a Powerful Franchise Brand
Use the Power of Because to stand out in the sea of sameness and close more sales.
















"His presentation was probably the most important..."
...that we've seen at the Pizza Executive Summit."
Marla Topiff  | President, Rosati's Pizza
Simple strategies for building a consistent, loved brand across every interaction.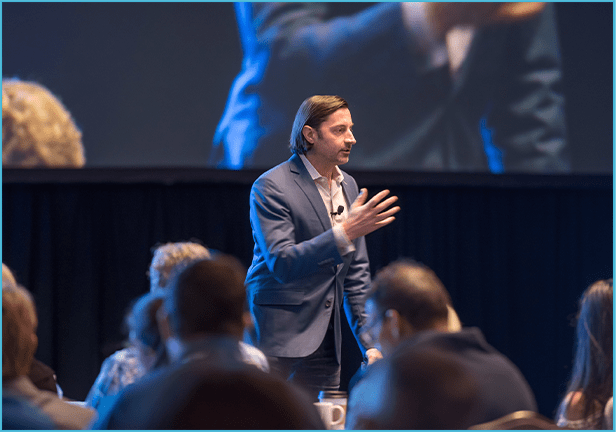 Great franchise brands are built on the front lines with every customer interaction. The lowest paid employees can have the biggest impact on your brand – and on your sales. They should be your best marketing tool. Are they?
On The Front Lines will give your franchisees the knowledge and tools to grow their franchise business while building a powerful brand. They'll learn the formula used by the most successful franchise concepts to increase guest frequency and retention. They'll gain insights about hiring and motivating Millennial employees – turning them into your best brand-builders.
Inspire your franchisees to be the best they can be. Get them excited about their critical role in building a powerhouse brand. Whether you need increased compliance, improved execution, more engaged local marketing, or better customer service, this presentation will motivate your franchisees to take their game to the next level.
Gerry O'Brion is a nationally recognized speaker, author, and marketing expert who helps restaurants thrive. Having worked on several billion dollar brands, he translates that experience into strategies that build great restaurant brands.
to close more sales in crowded markets
While at P&G, Coors and Red Robin, Gerry led strategy and advertising development that sold billions of dollars of soap, beer and burgers. On the Coors Light brand, Gerry helped launch innovations that grew the brand by $250 Million.
Gerry's Because Framework has been presented to over 50,000 CEOs, business owners, franchisees and sales teams.
Work with Gerry to unlock the power of Because for your industry or company to become the #1 choice in your market.